Retailing after Covid-19: What's coming?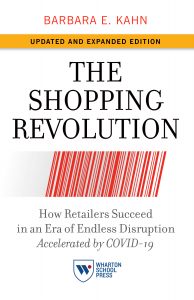 We asked Barbara Kahn, author of The Shopping Revolution, to tell us what she finds interesting about retailing after a pandemic.  Here's what she had to share:
How to Compete Successfully in a "Post Retail Apocalypse/Post Covid"
2017 was dubbed the year of the "retail apocalypse," because so many stores closed; more than 8600 stores closed, the highest number in history. 2019 was even worse, with more than 9,500 stores closing and predictions were that 75,000 stores would close across North America by 2026.
But no one was predicting the disaster that Covid-19 would cause. From March to June 2020, most non-essential retail was temporarily shuttered, resulting in the closing of 250,000 stores. More than 15,000 stores closed for good by the end of 2020.
Can the retailing industry survive? Most definitely, but there is no question that retail as we know it will need to change in some dramatic ways.
Although the pandemic was an abrupt disruption to business as usual, mandating a "new normal," many changes were long in coming. Analysis showed that the changes in shopping behavior that were observed during the critical periods of Covid-19 were actually really an acceleration of 5-10 years of behaviors that were already in progress even without the pandemic occurring.
What forces were responsible for this major transformation in retail? I see six disruptive trends, that were accelerated during covid-19, but started years before.
1. The Game-Changing Dominance of Amazon
Amazon was dominating retail pre-2020, but post Covid-19 is their dominance unsurmountable? Before Covid-19, Amazon represented nearly 40% of all US online retail sales. During the Covid-19 shutdowns, consumer spending on Amazon is estimated to have risen by at least 35% more.
2. Moving to a Customer-centric Omni-Channel World
Data are indicating a 10% higher inclination to purchase online than in the past, post covid. Trends that we had already observed like streaming entertainment and gaming will continue to grow. This suggests we will likely see partnerships between retailing and other services that were difficult to negotiate previously.
For consumers, shopping is not really one channel or another; it is an omnichannel experience, which means that consumers expect seamless integration across online, offline and mobile. For the customer to be provided with a unified experience across all channels and touchpoints, internally all of the data across the platforms have to be connected. And the retailing should be customer-centric, which means this seamless integration across channels should be viewed from the customer perspective.
3. Massive Data Collection
With this seamless integration across all channels, it is now possible to record scads of customer data. Mining these data through artificial intelligence techniques allows retailers to personalize and customize shopping experiences.
Marketing in general is more tailored, and websites morph as a function of past behavior. Even in-store behavior can be individualized as consumers learn to use in-store apps to get price and product information.
4. New Technologies
Retailers have high hopes for the advantages that will come through virtual reality and augmented reality. Already it is possible for customers to explore a complete virtual reality environment in order to determine whether they want to buy a particular product. Augmented reality is also being used by some progressive retailers in the beauty and home design categories.
5. Direct-to-Consumer Retailing
Direct-to-consumer retailing, or vertical integration, is about integrating the retail value chain so the brand does the manufacturing, branding, and distribution. Products can go directly from the factory to the consumer or through the brand's own retail store or showroom, eliminating the need for the multi-brand retailing channel and those corresponding margins. This typically allows for higher-quality products to be sold at lower prices.
Luxury brands are also going direct—not necessarily to lower prices, but to increase service, customization, and preservation of the brand narrative.
Many of the new "digitally native vertical brands" competing on high quality at lower cost feature price transparency as part of their customer value. Vertical integration has allowed for shorter delivery times, better return policies, and full access to information and inventory.
6. A New Generation of Customers: Generation Z
The media has been replete with discussion of the power of millennials. Accenture estimates their spending power will be somewhere around $1.4 trillion by 2020, representing 30% of all sales. But there is a new generation in town. "Gen Z"—those born starting in the mid-1990s will make up 40% of the consumer base by 2020; one estimate puts their buying power at $44 billion.
Gen Z'ers are not as brand loyal as past generations because they are used to seeing new digital brands spring up overnight, and they are comfortable giving up their personal data—but they are sophisticated enough to demand that their data be protected.
Like millennials, Gen Z consumers are digitally native and comfortable with online shopping. But these new shoppers are not shunning physical stores. However, they have different expectations for their store experiences. They expect and embrace technology in stores; they are comfortable with interactive shopping screens, self-checkout, virtual try-on, and other experiences.
Gen Z'ers value experiences. Partly this is because they get currency from sharing photos on social media. They are more likely to rent or share products; they don't need to own things.
Gen Z'ers are also comfortable omnichannel shoppers and are quite used to using their phone in tandem with their in-store shopping. They value consumer reviews. They are sophisticated with price comparisons; but that doesn't mean they don't appreciate luxury. Like other generations there is great heterogeneity in price sensitivity.
How Can Retailers Compete in This Marketplace?
One of the keys to both Amazon's success now and Walmart's success in disrupting retail in the mid-nineties is a fierce understanding of what customers want. Winning retailers have to be completely customer-centric. This means they need to be mindful not only of what products customers want, but also of the importance of convenience—of removing the pain of shopping.
In addition, given how competitive the marketplace is today, it is not only important to fill customers' needs, but to do so in a way that is even better than the competition. This requires not only massive amounts of customer data, but also keeping track of competitive actions and anticipating future innovation and response. Finally, it is essential to keep pace with ever-changing technologies.
Barbara E. Kahn is Jay H. Baker Professor of Marketing at The Wharton School at the University of Pennsylvania and author of CX blockbuster The Shopping Revolution.